Executive

Founder - Chairman of board & CEO:
Sir JACOB ZECHARIA,

Mr. Zecharia was formerly the Head of Business Development of Soreq Nuclear Research Center (S.N.R.C.) and Managing Director of Isorad, a Government Company acting as the commercial arm of the Nuclear Research Center in the Israel Atomic Energy Commission, following 30 years of experience in the nuclear industry.

Later on was an executive in the Mediterranean-Dead Sea Company which designed the canal to connect both seas to establish a hydro-electric power plant, and a leader of major Defense Ministry projects. Mr Zecharia is also a Board Member in several public companies and a director and partner in Southern Sun Ltd which develops the Lev Ha'Negev project – a big tourist and construction enterprise in Israel's Negev.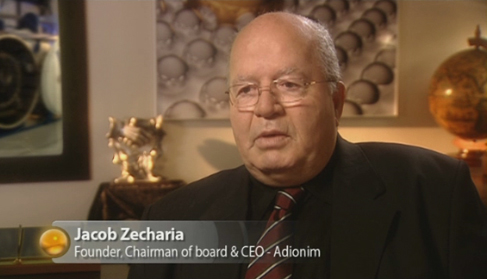 Advisory Board:
Dr. YEHUDA DANON
Medical Applications

Dr. Danon was the Surgeon General of the State of Israel in 1986 to 1981. He is a graduate of the Hebrew University Hadassah School of Medicine, and completed his specialization in Pediatrics at the Beilinson Medical Center and Immunology at Weizmann Institute in Rehovot Israel, and UCLA-California.

Dr. Danon initiated the Schneider Children's Medical Center of Israel (SCMCI) and served as Founding Director of SCMCI until 1997. At present, Dr. Danon is Professor of Pediatrics at the Tel Aviv University (TAU) Sackler School of Medicine and director of the Kipper Institute of Immunology at SCMCI, and has published more than 300 original papers and six books. Dr. Danon is also a bioterrorism consultant to the Israeli government.
General FREDDY ZACH
Arab Region Marketing

Gen. Zach retired from the IDF in August 1995, after 32 years of professional service. Among his duties he was in the Military and Civil Administration, Deputy Coordinator of Government Activities in the West Bank and Gaza, a key negotiator for the Peace Negotiations and a member of the Israeli delegations to the Multilateral Working Groups. Gen. Zach is an expert on Israel's security & economy and has vast experience and expertise on Palestinian neighboring countries issues.

Gen. Zach graduated from Tel-Aviv University - Middle Eastern Studies & Geography - and obtained his Master's degree in Political Science from Bar-Ilan University.